20 juin 2017
J'ai cousu avec plaisir ces 5 robes-salopettes pour mes demoiselles Teen Trends.
I sew with pleasure these 5 dresses for my Teen Trends.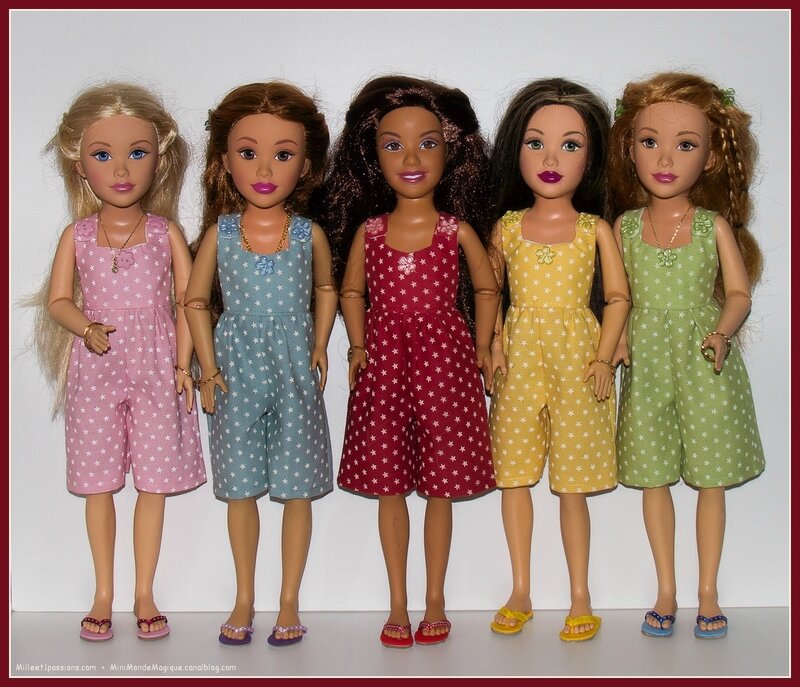 La poupée du centre (en rouge) n'est pas de la série Teen Trends de Mattel, mais de la série "Disney High School Music" ; toutefois le corps est identique, et j'ai ajouté cette jolie Gabriella car je trouvais que sa peau dorée complétait bien le groupe des 4 Teen Trends originales.
The center doll (in red) is not from Mattel's Teen Trends series, but from the "Disney High School Music" series ; however the body is identical, and I added this pretty Gabriella because I found that her golden skin complements the group of 4 original Teen Trends.
10 mai 2017
J'ai récemment eu l'occasion de trouver chez Emmaüs une poupée de la série Teen Trends de Mattel, une sorte de grande poupée mannequin de 43 cm (17 pouces) que Mattel avait sorti en 2004 pour les gamines qui auraient voulu se mettre à la couture.
Elles étaient proposées avec une garde-robe minimum, des accessoires comme des chaussures et bijoux, et une grande malle pour ranger les futures tenues ; dommage, ça n'a pas marché du tout ; il l'ont sortie trop tôt et la couture n'était pas encore à la mode comme maintenant. Elles ont été retirées du marché en 2006.
Je suis tombée sous le charme de ces grandes filles, et j'ai cherché les 3 autres pour recréer le groupe. C'est fait.
Voici don un moment émouvant : 4 filles réunies.... après 12 ans de séparation et voyages au long cours depuis leur "naissance" en 2005 en Asie !
De gauche à droite :
J'ai trouvé Courtney au Québec.
J'ai trouvé Gabby en Californie, mais elle était une seconde main achetée à une japonaise parait-il.
J'ai trouvé Kianna au Kansas.
J'ai trouvé Deondra en Oregon.

Même si Kianna et Deondra n'ont pas encore de tongs aux pieds car je n'ai pas eu le temps de leur en faire (selon la méthode expliquée ICI), elles ont décidé d'arroser dignement leurs retrouvailles, comme vous le voyez ci-dessous !
Il me reste maintenant à m'améliorer en tricot pour leur faire des pulls un peu plus élaborés que ceux-ci que j'ai tricoté "au pifomètre".