J'ai une nouvelle pensionnaire, elle est de la marque American Girl, une poupée de légende aux USA, non seulement pour son nom, mais pour l'ancienneté de la marque (les petites américaines d'aujourd'hui jouent avec des American Girls, comme le faisaient leurs mères, et ces poupées n'ont pour ainsi dire pas changé).
I have a new boarder, she's from the American Girl brand, a legendary doll in the US, not only for her name, but for the brand's age (today's American young girls play with American Girls as their mothers did, and these dolls have hardly changed).
Elle manquait à ma série de poupées 18 pouces (46 cm) ; je n'en ai pas voulu pendant longtemps, car je trouvais sa morphologie très lourde, et sur les photos, son visage ne me plaisait pas. De plus, le prix de vente m'interdisait tout éventuel achat : de 150 à 250 $ US... alors que je refuse de mettre plus de 50 $ canadiens dans une poupée.
Or, j'ai eu la chance d'en trouver une d'occasion à petit prix et je n'ai pas hésité.
She missed my doll series 18 inches (46 cm); I did not want for a long time, because I found his morphology very heavy, and in the photos, his face did not please me. In addition, the sale price prohibited me any purchase: from 150 to 250 $ US ... whereas I refuse to put more than 50 $ Canadian in a doll.
However, I was lucky to find a second hand at a low price and I did not hesitate.
Et bien, dès que je l'ai eue dans les mains cet après-midi, ce fut la surprise : de près, cette poupée est vraiment très mignonne, et je l'aime déjà beaucoup !
Je savais que je devais la récupérer aujourd'hui, aussi lui avais-je cousu un sweat-shirt bien chaud... la voici qui vous le présente :
Well, as soon as I had it in my hands this afternoon, it was a surprise: up close, this doll is really cute, and I already like it a lot!
I knew I had to get her back today, so I had her a warm sweatshirt ... here she presents it to you: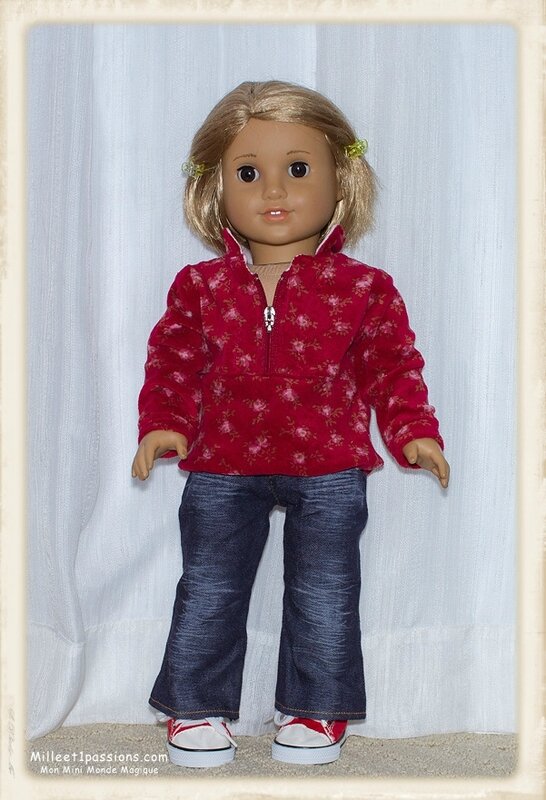 J'hésite sur son prénom, ces 5 là me plaisent : Charlotte, Lily-rose, Liberty, Scarlet, Tiffany.. à suivre !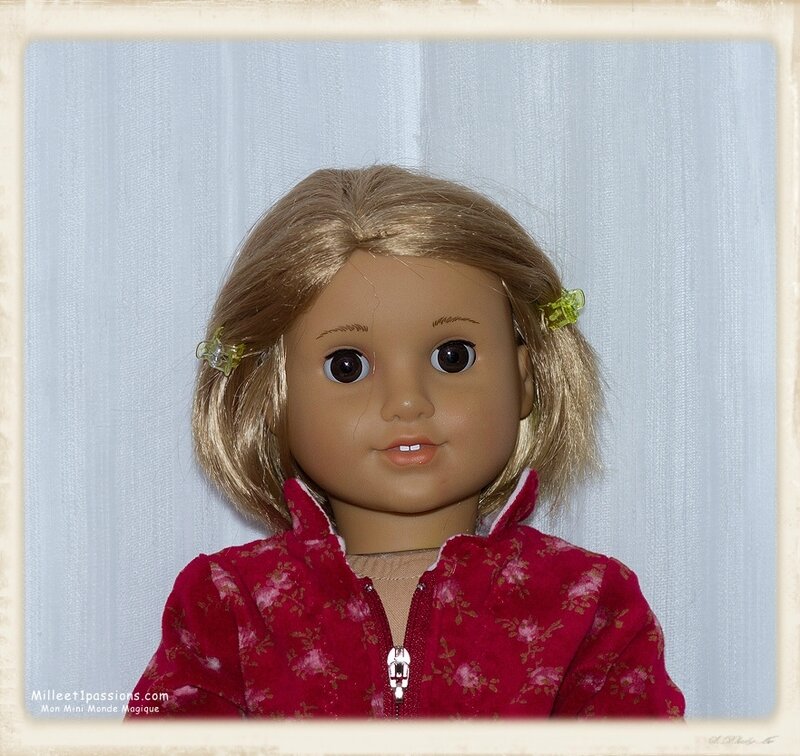 Si cela vous intéresse, le patron du sweat-shirt est ici : https://www.pixiefaire.com/products/half-zip-pullover-18-doll-clothes
If you are interested, the pattern of the sweatshirt is here: https://www.pixiefaire.com/products/half-zip-pullover-18-doll-clothes
♥♥♥