J'avais du mal à trouver un style pour la petite Katie (marque Newberry, de Sears-Canada) que j'ai eu à Noël. Elle est "courte sur pattes", un peu bouboule, avec une tête de petite fillette coquine. J'ai tricoté deux pulls, puis j'ai fait un sweat-shirt zippé, un leggins rayé, rien ne lui allait, rien ne me plaisait sur elle.

Puis m'est venue l'idée de lui faire une salopette.
J'ai commencé par un modèle que je n'avais pas encore fait.... mais ça ne me plaisait pas : trop dur et trop masculin sur elle ; j'ai décidé de la garder pour un garçon.

Du coup, j'ai repris le modèle de salopette que j'avais fait l'été dernier, mais en jeans avec des poches fleuries ; je lui ai mis en dessous un petit t-shirt rayé... et là, cette fois, ça me convient et je la trouve bien comme ça... ouf !
I had a hard time finding a style for little Katie (Newberry brand, from Sears-Canada) that I had at Christmas. She is "short-legged", a little bumbling, with a head of little girl naughty.I knitted two sweaters, then I made a zipped sweatshirt, a striped leggins, nothing fit him, I did not like anything about her.
Then I had the idea to make him an averalls.
I started with a model that I had not done yet .... but I did not like it: too hard and too masculine on it; I decided to keep it for a boy.
Suddenly, I took the model of overalls that I had made last summer, but in jeans with floral pockets; I put underneath a little striped t-shirt ... and this time, it suits me and I find it well like that ... phew!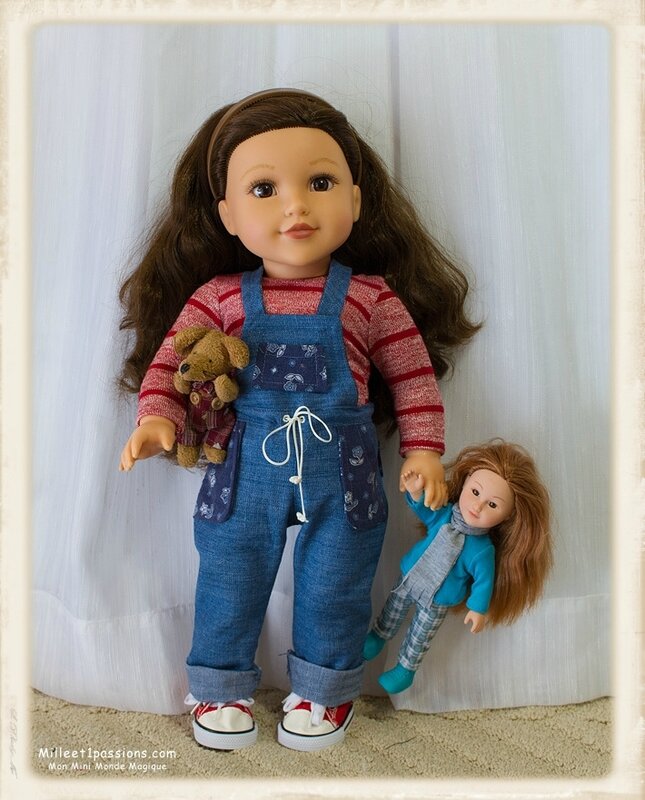 Mais il a fallu fortement rouler le bas pour elle tant ma canadienne est "petit pot à tabac" comme dit mon mari, alors que lorsque je l'avais faite pour l'américaine Meredith (Journey Girls de ToysRus) l'été dernier, celle -ci avait les chevilles à l'air avec un mini revers alors que j'ai du en faire 2 grands pour Katie !!
But it took a hard roll for her so much my Canadian is "little pot" as my husband says, whereas when I made it for the American Meredith (ToysRus Journey Girls) last summer, it had the ankles in the air with a mini back when I had to make 2 big for Katie!
Elles font bien 18 pouces (46 cm) toutes les deux, mais leur morphologie est vraiment totalement différente.
Ce qui est curieux, c'est que, parallèlement, j'ai besoin de jeans à longueur d'entrejambe 34 (36 si je trouve, c'est encore mieux, mais c'est rare pour les modèles pour femmes), j'en trouve très peu dans nos magasins canadiens où il se vend par contre des tas de jeans en longueurs 28, 30 et 32, et que je dois aller aux mêmes magasins mais côté USA pour trouver mes jeans en 34. Ils semblerait donc que les américains aient les jambes plus longues que les canadiens...?
They are well 18 inches (46 cm) both, but their morphology is really totally different.
What is curious is that, at the same time, I need jeans at crotch length 34 (36 if I think, it's even better, but it's rare for women's models), I found very few in our Canadian stores where it sells against piles of jeans in lengths 28, 30 and 32, and I have to go to the same stores but on the US side to find my jeans in 34. So it seems that the Americans have longer legs than Canadians ...?
Voici la première salopette que j'avais faite pour Katie, qui va nettement mieux à Robbie qu'elle n'allait à la poupée Newberry (notez le rentré obligatoire pour Katie, alors que les jambes ont toute leur longueur sur Robbie qui est une poupée américaine de la marque My Life as, transformée en garçon par mes soins).
Here is the first overall I made for Katie, who is much better at Robbie than she was going to the Newberry doll (note the mandatory return for Katie, while the legs have their full length on Robbie who is a doll American brand My Life as, turned into a boy by me).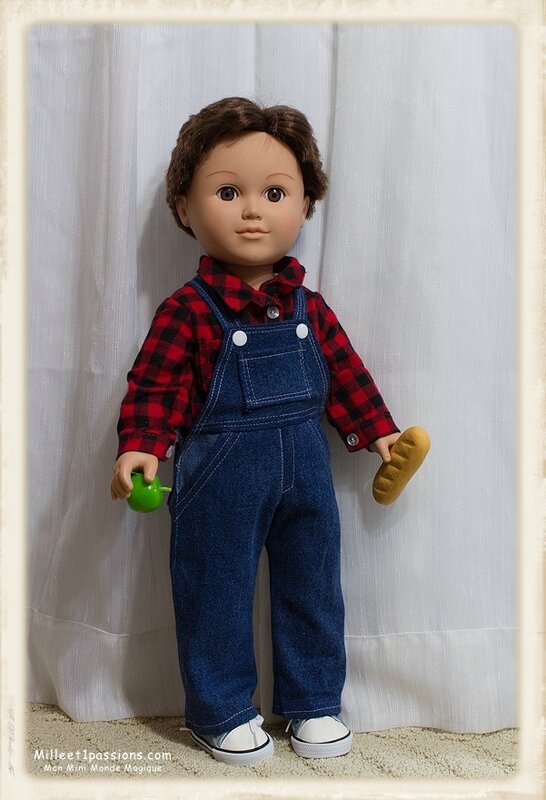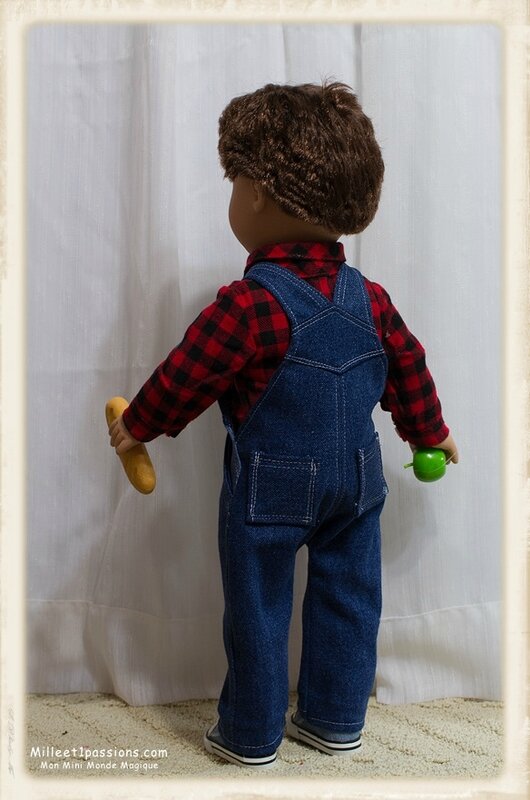 Si cela vous intéresse, vous trouverez les patrons ici / If you are interested, you will find the patterns here
https://www.pixiefaire.com/products/not-your-mama-s-overalls-18-doll-clothes
et ici / and here :
https://www.pixiefaire.com/products/oh-my-gosh-overalls-18-doll-clothes
♥♥♥