J'entends la porte à l'arrière de la maison qui coulisse...

étonnée, je vais voir.
Et je découvre 3 petits lutins qui me essayaient de sortir sans faire de bruit, avec leurs patins à glace sur l'épaule !
- s'il te plait, Guyloup, je peux aller patiner avec ma jumelle Jessica et sa copine Taryn ? demande Jonathan plein d'espoir.
- non mais, vous êtes fous, il fait - 30, c'est bien trop froid !
- c'est pas grave, tu sais, on s'est bien couverts ! m'a-t-il répondu.

Quels inconscients ces enfants !

I hear the door at the back of the house sliding ... étonnée, I'll see.
And I discovered 3 little elves who tried to go out without making noise, with their ice skates on the shoulder!
- please, Guyloup, can I go skating with my twin Jessica and her girlfriend Taryn? Jonathan asks hopefully.
- No, but you're crazy, it's - 30, it's way too cold!
- it does not matter, you know, we covered well ! he answered me
What unconscious these children!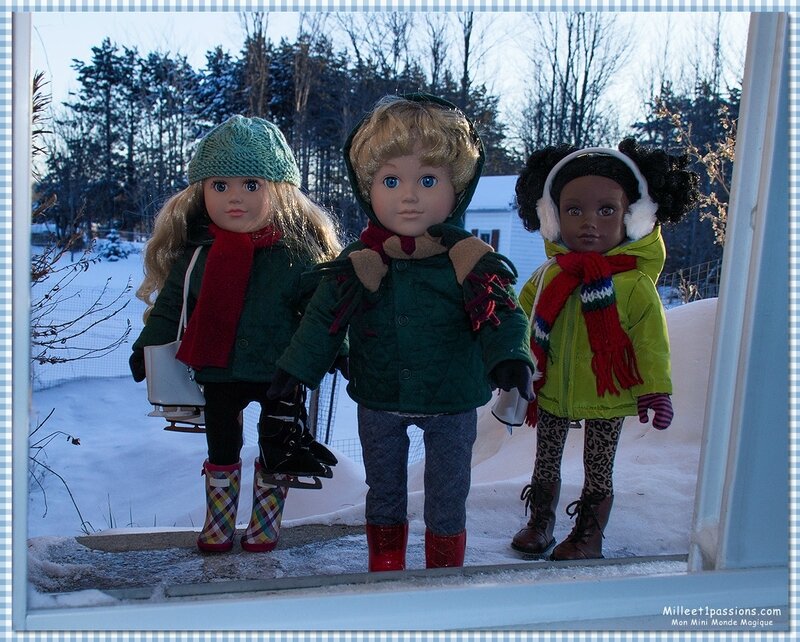 Je voulais préciser que contrairement à ce que les médias laissent entendre, le froid que nous avons actuellement n'a rien d'incroyable, j'ai vu bien plus froid certaines journées depuis que je vis ici. Toutefois, ce qui est anormal, c'est d'avoir ces froids là en décembre, car habituellement, nous ne les subissons que de mi-janvier à mi-mars, le reste du temps se situant à des températures très supportables oscillants en permanence de -15°C à zéro.
Par ailleurs, ne paniquez pas non plus avec les températures de -40 des médias.... là encore, c'est le RESSENTI, avec l'humidité de notre cher pays, ajoutée au vent, comme vous le voyez ci-dessous, un -22°C peut donner un ressenti de -34 et bien sur, c'est celui là qu'on annonce, parce que ça fait "mieux" dans l'histoire !!!
I wanted to say that contrary to what the media suggest, the cold we have now is not incredible, I have seen much colder days since I live here. However, what is abnormal is to have these cold in December, because usually we only suffer from mid-January to mid-March, the rest of the time being at very tolerable temperatures constantly oscillating from 5 to 32 ° F.
Also, do not panic either with the temperatures of -40 of the media .... again, it is the RESSENTI, with the humidity of our dear country, added to the wind, as you see it below, a -7,6° C can give a feeling of -29,2 and of course, it is the one that we announce, because it is "better" in history!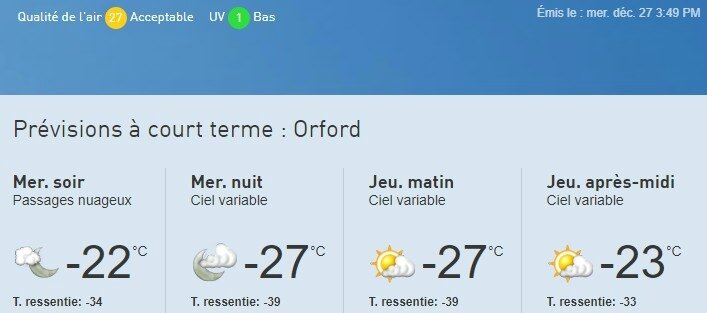 J'ai une pensée pour les sans-abris, autant humains qu'animaux. Comme le chantait Charles Aznavour :
Emmenez-moi au bout de la terre
Emmenez-moi au pays des merveilles
Il me semble que la misère
Serait moins pénible au soleil
I have a thought for the homeless, both human and animal. As Charles Aznavour sang:
Take me to the end of the earth
Take me to wonderland
It seems to me that misery
Would be less painful in the sun
À bientôt, See you soon
♥♥♥