Réunion entre belles-sœurs et beaux-frères, un dimanche d'hiver, chez Candice et Colin.
Meeting between sisters-in-law and brothers-in-law on a winter Sunday at Candice and Colin's house.
Image grand format à voir : http://pimg.imagesia.com/fichiers/1dj/img-3346-1500_imagesia-com_1djvf.jpg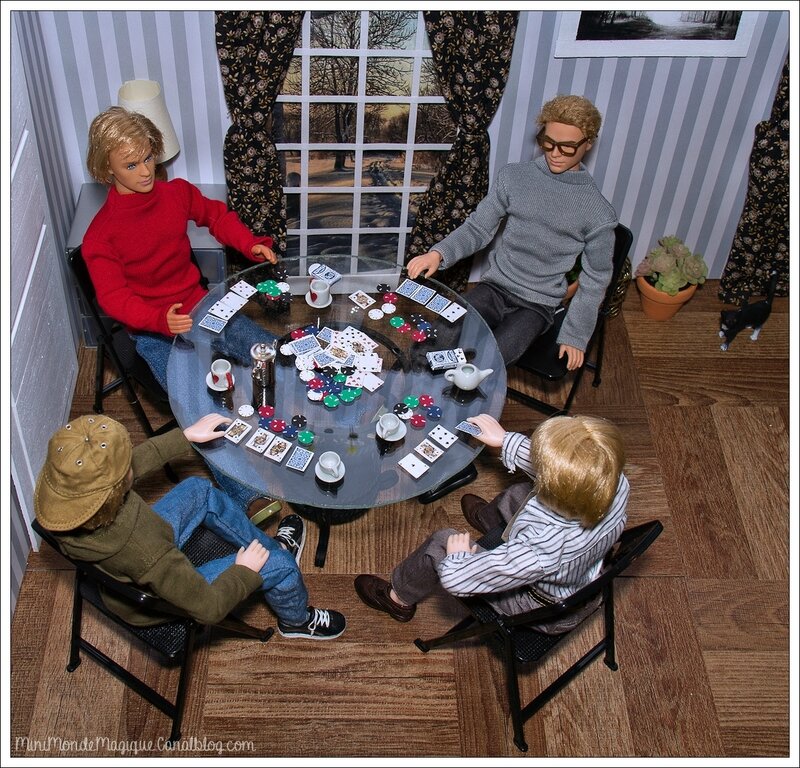 Image grand format à voir ICI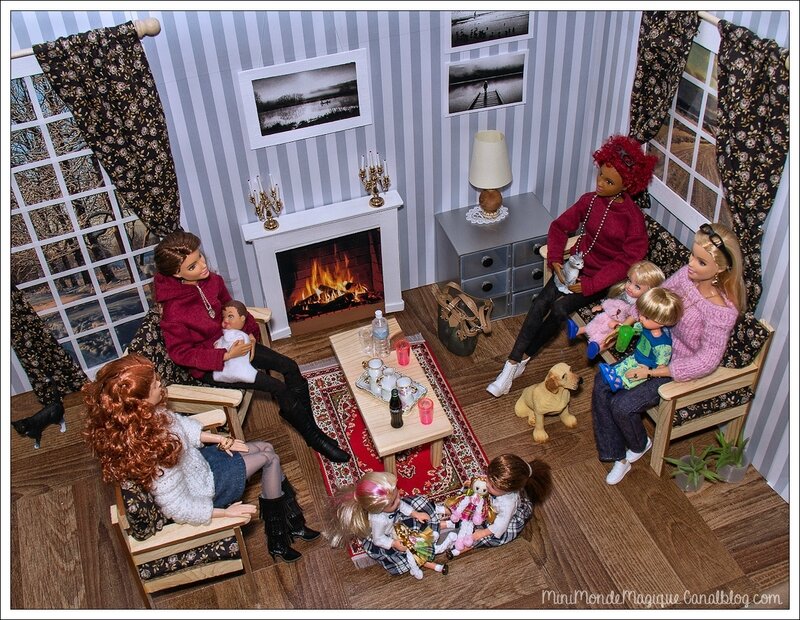 Image grand format à voir ICI
Pour qui serait surpris de voir les hommes jouer aux cartes pendant que les femmes sont avec les enfants, voici l'explication :
Les femmes discutent entre elles de choses sérieuses et passionnantes pendant que les hommes s'amusent à joueer cartes, et si elles ont les enfants avec elles, c'est qu'elles veulent que ces enfants entendent parler de sujet plus intelligents que des points ou des noms de cartes !!
Les 4 belles-soeurs, Candice, Juliette, Tatiana et Laetitia sont des femmes féministes, humanistes et écolos, et pratiquant des loisirs créatifs, elles ne sont jamais en panne de sujets de discussion :-)
Tatiana est mannequin, elle est russe d'origine, et elle milite pour Amnesty International.
Juliette est (avec sa copine Marion, la femme du vétérinaire) une militante de Greenpeace.
Laetitia adore les enfants et les animaux, elle soutient l'Unicef et fait du bénévolat à la SPA.
Candice est passionnée par tout ce qui concerne l'environnement (elle était biologiste avant de s'arrêter à la naissance de sa fille).
Ajoutez à cela que Candice et Juliette adorent faire la cuisine, et pratiquent photo, scrapbooking et tricot, que Tatiana fait du patchwork, et que Laetitia fait du dessin.
Vous voyez qu'elles ont de quoi parler de choses bien plus passionnantes que les jeux de cartes !!
For who would be surprised to see men playing cards while women are with children, here is the explanation:
Women talk to each other about serious and exciting things while men play cards, and if they have children with them, it is because they want these children to hear about smarter topics than points or card names !!
The 4 sisters-in-law, Candice, Juliette, Tatiana and Laetitia are women feminists, humanists and ecologists, and practicing creative leisure, they are never out of discussion :-)
Tatiana is a model, she is a Russian of origin, and she is a militant for Amnesty International.
Juliette is (with her girlfriend Marion, the wife of the veterinarian) a Greenpeace supporter.
Laetitia loves children and animals, supports Unicef ​​and isvolunteers at the animal protection humane society .
Candice is passionate about everything about the environment (she was a biologist before stopping at the birth of her daughter).
Add to this that Candice and Juliette love to cook, and practice photography, scrapbooking and knitting, that Tatiana does patchwork, and that Laetitia does some drawing.
You see that they have something to talk about things more exciting than card games !!